Lost Pet Checklist
Lost Pet Checklist
A missing pet is one of the most heart wrenching experiences any pet lover may have. Almost 60% of all pets become missing at some point. However, action is your strongest ally and time is of the essence.
Step 1: Thoroughly Search Your Property and Neighborhood
Pets can wind up in some strange and distant places and can also sometimes be found at home or nearby. In fact most pets are found within a 2 mile radius of their home. Check under porches, vehicles, in tool sheds, garages, drainage pipes and other small hiding spaces. Also look in and around major appliances, dumpsters, trash cans and boxes. If you have a cat who loves to climb, be sure to check all nearby trees. While you are looking, call your pet, or squeeze a favorite squeak toy. Be sure and listen. If a pet is trapped under or in something, the noise he makes could be faint.
If your at-home search turns up no clues, begin searching the neighborhood and calling to your pet. Knock on the doors of neighbors and ask if they have seen your missing friend. Pets have been found in neighbors sheds, under items in a carport, and garages, so ask that they look and listen for strange sounds. Also, neighborhood children can be very helpful in finding a lost pet.
If you are searching for a cat or ferret or similar type animal, think about the places he would most likely feel safe. If the pet is not normally outside, he may look for a dark quiet area away from traffic and other noises. If the animal is friendly, he may seek out other people. Many cats are frightened of strangers and may seek shelter in a garage, shed, under a porch, or in the highest tree in the neighborhood.
Step 2: Place a Lost Listing on www.WinterParkLostPets.com
Listings are free and remain on our website until you request their removal. Keeping in mind that not everyone is an animal expert, our notes section lets you be as detailed as possible in your description of the pet. Posting a photo of the pet will increase its chances of being reunited with its owner so please use this feature.
We have the ability to send out email alerts when a new listing is posted which offers extra notification of your lost or found pet. The listings are by most recentdate.
Check our LOSTAND FOUND pet listings daily. One of our features is a keyword search, which can be used to search by lost/found, type of pet (species), gender, color and breed. Please remember as you are checking listings, that people descriptions may vary drastically. For example, a boxer can be mistaken for a pit bull. Not everyone is an animal expert, and not many people may even be familiar with a certain breed. If the animal could vaguely be yours, contact the person and inquire, it doesn't cost you anything and it could possibly make the difference in locating your pet. Click on the link to the right on the Home page to sign up for email alerts.
Step 3: Begin Placing Flyers Around Your Local Area
Flyers are the number one method of finding a missing pet. Information on the flyer should be kept to a minimum. All that is needed is a picture, brief description and a phone number. The pet resources page has a template for creating this type of flyer. If you are offering a reward, there is no need to state the amount on the flyer. In fact, it is best not to put a dollar amount on the sign. Be sure to keep some specific details to yourself, such as the color of eyes or a scar. This will tell you whether a caller really has your pet.
Flyers on bright paper will catch people's eye. You will find many do-it-yourself print places to make copies of your flyers. Use indelible ink to prevent the type from rain. Once you have your flyers, gather together tape and tacks to place the flyers in many different locations. Keep a list of all the places you have placed your flyers.
It is important to remember that The City of Winter Park adheres to the Orange County Ordinance that does not allow flyers posted on street signs or poles; this is one of the reasons www.winterparklostpets.com was created to give you a place to get the word out.
Deliver your flyers door to door. Place them in local businesses such as your gym, coffee shop, grocery stores, liquor stores and gas stations.Always ask permission to post your flyers because many businesses cannot post flyers in their windows (but many will place them next to their cash registers). Postings should cover a 2 mile area where the pet was lost. If your pet is not found within a couple of days, expand the postings to cover a 4 mile radius. Local veterinarians (listing is on the pet resources page) and animal businesses usually have a lost pet bulletin board, where you can post a listing.
If your pet has his rabies tag on his collar, call the vet who gave him the rabies shot. Make sure they know that he is missing and verify that they have your correct address and phone number.
If your pet is registered by tattoo or microchip, place a call to these businesses as well.
Contact the Winter Park Police if there is reason to believe your pet has been stolen.
If your lost pet was hit by a car, someone may have taken him to a vet clinic. People who find animals also call vet clinics to see if any of their clients are missing that pet. Call all the vet clinics within about a 10-mile radius of your neighborhood, and then take your flyers by each clinic to post in their lobby. Local Vet Clinics are listed on the pet resources page.
There are some emergency vet clinics that are only open at night and on weekends. Be sure to check with them also. Currently, Winter park has one emergency 24/7 clinic:Animal Emergency Services,5482 Lake Howell Rd.,(407)-673-1911. Emergency clinics outsidetheWinter park areaare listed in the phone book.
Check your flyers on a regular basis to make sure they remain in place and in good condition.
Step 4: Personally Check Area Shelters and Animal Control Facilities
If your pet is wearing registration tags, you will be notified. However, registration tags can become lost. You should check your local shelter(s) at least once a day.
Animals can end up at shelters by being picked up by animal control officers or by someone finding your pet and taking him to the shelter.Animal Control and shelter lists are included in this kit.
Ask each shelter about sick or injured animals, animals in quarantine or animals not yet placed in public viewing areas. Also bring your flyer along to assist the shelter workers in identification of your lost or found pet.
While most shelters and animal control facilities will keep an animal as long as possible, the law only requires that an animal without tags be kept for 3 days. If the animal has tags this may be extended to 5 days. Animals may be euthanized at the shelters discretion if an animal appears ill or contagious. .Any organization may adopt your pet to another family or the animal could be turned over to a rescue group, so you need to physically check back with them at least every other day -don't wait for them to call you.
Keep in mind that most shelters are understaffed and face an overwhelming work load. Your pet description may match the first 50 dogs that came in that day. Here is where the collar and tags make a huge difference. If someone picks up your pet, they can contact you or your veterinarian. If your animal is turned in to a shelter, the shelter will contact you. This is another good reason to keep your pet registration information up to date.
If your pet is picked up by an animal control facility, you will need proof of shots (veterinary receipt, not tags). Also, ask if there is a discount for spayed/neutered animals who find themselves at the shelter for the first time.
Another detail to think about when looking for a lost pet: Lost pets have been known to travel many miles before being located, just as Lucy was lost in Winter Park and found near the airport. Just because an animal is lost in one area, doesnt mean that he will not turn up 20 miles away. Also, if a person finds your pet and cannot continue to hold him, your pet will be dropped at the most convenient animal facility. Check those as well.
Step 5: Place an ad in the Orlando Sentinel
Advertise your missing or found pet in the Sentinels LOSTAND FOUND column of the classifieds. Please call 1-800-669-5757 to place your ad.The cost of the ad is FREE for a found pet. Lost pet ads range in price from $26.25 to $52.00 for and run in the newspaper for 5 days and online for 7 days.
You can also post a lost or found pet on the Sentinels website. Here is the Orlando Sentinels Website. You must register first to use this service. Check the paper and website every day!
If you have lost a ferret or bird: Since a ferret or bird cant be relinquished to animal control or the shelters, contact the local rescue group(s) for your specific pet as well as posting on www.winterparklostpets.com. Alistofrescuegroupsforbirds,ferretsandrabbitsarelistedonthepetresourcespage.AlsocontactWinterParkVeterinarians that specialize in ferrets or birds. That information is listed on the pet resource page as well.
Step 6: Place Items Outside to Attract Your Pet
Familiar items, such as a bed or favorite toy, can attract your pet. Favorite smelly foods can also bring your pet home if he is still in the local area. Of course, you may also attract the rest of the neighborhood creatures, but thats a small price to pay to have your best friend back safe and sound.
Step 7: Continue Searching
Canvass your neighborhood several times each day. Carry your flyers with you. Hand out the flyers and question neighbors, kids, joggers, postal carriers, garbage collectors, newspaper carriers, delivery people, everyone. The drivers for UPS and Fed X have been very helpful to the people of Winter Park who have lost a pet. Ask if they will take a flyer and be on the lookout for your pet. Many of our City workers have opportunities to see a lost wandering pet - let them know you have a missing pet.
Don't Give Up
Keep searching even when you have little hope left.Animals that have been lost for months have been reunited with their owners. Shy animals may take longer to find because someone has to be able to catch them first. Remember Lucys story the Lundys never lost hope.
Play it Safe
Your full name and address should not appear on your flyers so PRINT YOUR FLYERS FROM YOUR OWN POSTING! It is easy, once the posting goes live, click on "print a pdf flyer of this posting" and you will have a color poster. Printing options allow for extra copies.
Leave some important details out of advertised information, such as two different color eyes, six toes on a left front paw, etc. (If your pet was taken, he may not be wearing the same collar. Also, pets have been known to escape their collars.) When someone calls saying they have found your pet, ask them questions about those details. Leave your questions open ended, such as what is the fur like? What color are its eyes? What does the tail look like?
When knocking on doors around your neighborhood or when answering a found ad in person, take along a friend and meet in a public place.
If you are offering a reward, whether it is for the finder of the pet or information leading to the return of your pet, do not pay the reward until your pet is in hand.
Acommon scam that has been reported in other cities is for a person to call you about your missing pet and request money for his safe return. It is common for the person to claim that he/she is a trucker. He may say he found your pet on the road and picked it up, now he is in some distant town and needs money to send the pet back. The Winter Park Police suggest you do not fall for it; this person does not have your pet and will not be able to tell you specific details about your pet. Turn the persons information over to the Winter Park Police Department immediately.
If You Have Out-of-Date ID Tags
If your pet's ID tags have an old address and phone, contact the people who now live at that address and let them know your pet is missing and give them your current information. Check back with them occasionally, in case they lose your information. In case of an old phone number, contact your carrier to see if they may assist you. If it is an old landline, they may be able to help. If it is an old cell phone number, call it and if it has been reassigned, let that person know about your lost or found pet and how to contact you should they receive a call.
Dead Animal Retrieval
It is an unfortunate fact that some missing animals wind up as accidental fatalities. Most animal control units in the area will contact an owner if the victim has tags. In the City of Winter Park, Orange county and Seminole county animal control handles this matter. Please contact both for this information (listing is on the pet resource page).
When Your Pet is Found
Contact us to remove your posting.
Remove your flyers and thank the people who helped you. Protect your pet from getting lost again.Always keep a collar and current ID tag on your pet -even if he is an indoor only pet! Have your pet microchipped. Microchips have proven to be a successful factor in reuniting a lost pet with its owner when it is not wearing an identifying collar or tags. Make an appointment at your vet or a clinic to have this done as soon as your pet is returned to you. Have your pet spayed or neutered. This keeps them from wanting to stray. Bring your pets indoors during thunderstorms and on loud holidays, such as July 4th and New Years.Animals can be very afraid of thunder, lightning, and fireworks and often run out of fear. Frightjump fences.ened animals may dig out or
Judy once found a dog that had crossed several busy intersections after jumping from a standing position over a six foot fence when he became startled! That dog was found miles from its owner). Check your yard to make sure gates are secure and there are no gaps your pet can crawl through.
Look back at how your pet got lost so you can correct any reoccurrences. Do a routine check of your yard and home and repair any possible escape routes. Remember, anyone's pet can turn up missing at any time. As long as you act quickly, your chances of recovery are good. Keep a positive outlook and above all Keep Looking! www.WinterParkLostPets.com is one way to get your information out quickly and efficiently and in a general area for the City of Winter Park. Check the website often!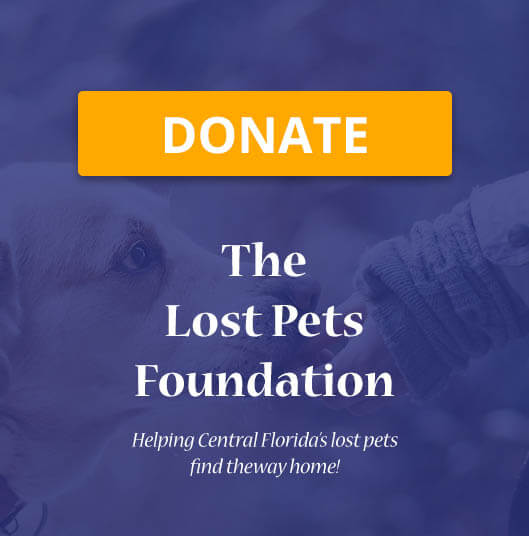 ---
Cofounder and Sponsor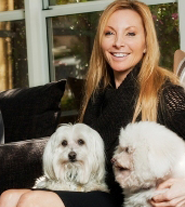 Shelley Heistand
Coldwell Banker
407-718-9222
---
Cofounder Executive Director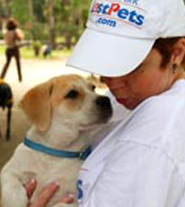 Judy Charuhas
Contact Judy here